Now in its 17th edition, Terrania is an International Ceramic Festival attracting clay artists and art lovers from near and far. The festival takes place in Montblanc, in the province of Tarragona.
Montblanc is an incredibly interesting medieval site—In fact, one of the best preserved in Catalonia. The best option to see the village is to leave your vehicle outside the old city wall and visit the old quarter on foot.
A pioneering ceramics event in Spain
Since its inception, Terrania has been a pioneering event in Catalonia thanks to the quality of the work on exhibit and the number of people in attendance.
One of the main objectives of Terrania is to spread the word about Artistic and Decorative Ceramics, little known in this part of the world. When talking about ceramics, most people here are referring to traditional pottery and household utensils. For this reason, the festival tries to highlight extraordinary fine art ceramic exhibitions and high quality technical demonstrations.
And that they did! I was very impressed by the high quality and wide range of work that I saw during my visit. More than thirty-five artists participated from Catalonia, Spain, France, Belgium, Finland, Holland, Switzerland, and more.
You can find a full list of the 2019 participating artists here.
Main attractions
The main attractions of the Terrània Festival are the hands-on workshops and the market, held in the Romanesque-Gothic style Convent and cloister of Sant Francesc (13th century).
Beyond this spot, the festival spreads out through the center of town, held in small museums and local galleries. Each site is just a few minutes walk from each other and you can easily visit the entire festival in a day.
My favorite exhibitions
Binomial Tree-Man in the Lands of the Ebro by Joan Panisello
Teacher, ceramist and passionate innovator, Joan Panisello was ready and willing to have an enthusiastic chat about his experimentation with shapes, textures and colors. Member of the International Academy of Ceramics, Joan has participated in over 225 international exhibitions and received over 23 awards for his extraordinary work.
His asymmetrical vessels with textures taken from tree bark were a real treat for me, as I have also been experimenting with tree forms and textures. My only wish is that I'd had more time to sit and chat with Joan. It's a real pleasure to find artists so enthusiastic about sharing their work!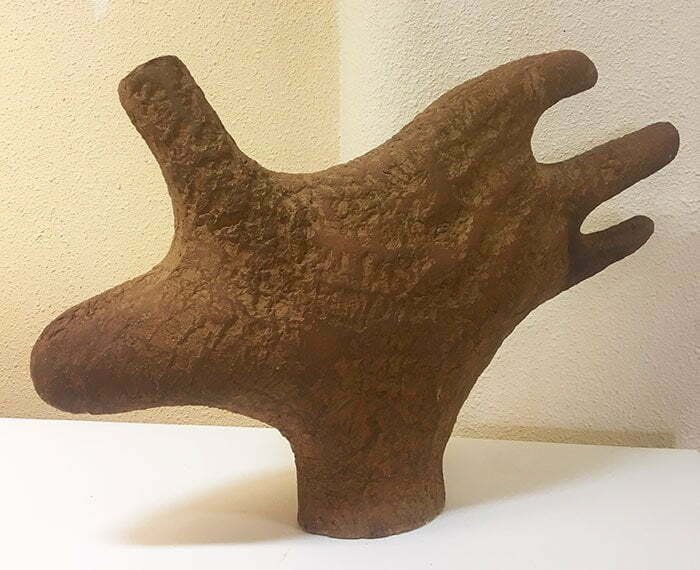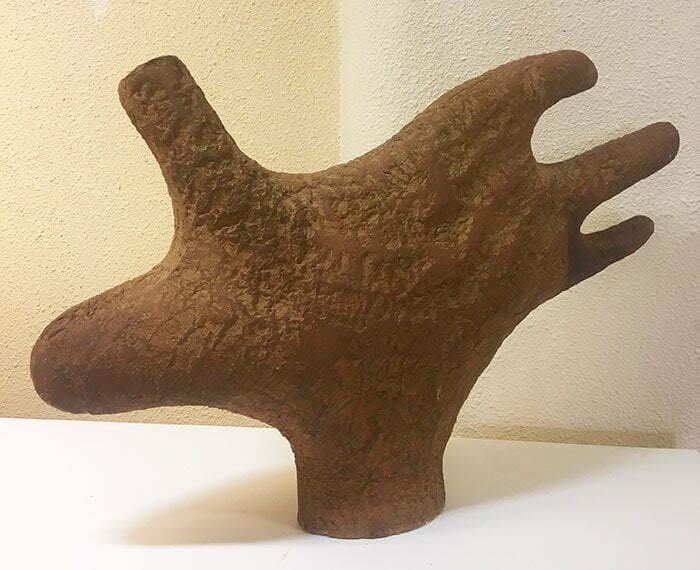 Human, The Unfair Destroyer by Roser Oter
I was blown away by the main exhibition in the Cloister of Sant Francesc by Ceramic Artist Roser Oter. Her sculptural work is of deep sociopolitical importance. Using small, simple clay figures and structural forms made out of clay, porcelain and sponge, Roser clearly communicates a strong message about inequality, estrangement and social injustice. Her work tells the story of a profound disappointment in human kind that so many of us feel today.
My favorite workshops
Raku in the microwave
I loved watching local Ceramicist Montse Llanas' workshop doing raku firing with microwaves! She had three microwaves going non-stop and a long line of participants who were eager to paint their pendants and see the magic happen. The tickets (just 3€ each) were all sold out by the time I got there, but I can't wait to try this at home!
Pre-Columbian clay stamps
I did have the great pleasure of joining Carolina Segre for the last workshop on her European tour. She explained the origins and significance of pre-Columbian ceramic stamps. Carolina has dedicated many years to studying this sacred art form and she enthusiastically shared her knowledge and techniques for replicating ancient techniques.
Her work is done in homage to the principles of reciprocity of our ancestral peoples. I look forward to experimenting with—and sharing— some of the knowledge she so kindly shared with me.
The Sellos Ancestrales project is dedicated to the research and dissemination of pre-Columbian design and stamps. Keep en eye out for a documentary coming out soon!