If you're looking for a way to add a touch of personality and intrigue to your interior design, ceramic wall plates are a great option for you to consider. These versatile pieces can be used as singular artworks or in striking collections.
For centuries, ceramic wall plates have served as a canvas for artistic expression and cultural storytelling. From intricate Ming Dynasty porcelain plates in China to vibrant Talavera plates in Mexico, plates have adorned walls across diverse societies, capturing the essence of traditions, beliefs, and aesthetics. They're a testament to our need to beautify and personalize our surroundings, fostering a tangible connection between past and present.
In this post, I'll take a look at some different kinds of decorative ceramic plates and explore how you can use them to diversify your interior design. First you should consider all of the different kinds of decorative plates available to you. Next, think about the space you're working with and decide if you want to use a stand-alone piece, an installation or collection of different kinds of plates, or an assortment of similar plates.
Types of ceramic wall plates
Let's take a look at the different kinds of decorative plates you may consider using. Each has a unique way to add texture, color, and style to your design concept.
Collector Plates
Decorative plates have been sought after as ornamental decoration as far back as the 14th century, when merchants first introduced Chinese products to Europe. Delicate decorative dishes became popular collectibles among European nobility for their novelty, rarity and beauty.
Painted Plates
Pablo Picasso knew that ceramic vessels and plates allow a painter to bring exuberance to the room. He started creating decorative plates and other ceramic artwork in the 1940's and continued until the end of his life. (You can even find some of his ceramics for sale here.) Today, there are many contemporary artists painting unique and beautiful designs on plates.
One of my favorite ways to decorate painted plates is with a technique called cueda seca. It was traditionally used to paint tiles and other architectural or decorative pieces in central Asia in the 14th century. Pigments are mixed with oil to sketch a design on the ceramics and the colored glazes are carefully added between the lines. Because the oil and water do not mix, this is one approach to painting on ceramics. You can learn more about this technique in my video tutorial.
Sculptural Plates
This type of decorative plate is less common and they're my personal favorite to create! Sculptural plates incorporate textures and patterns—I like to fuse sand and natural elements with the clay and glaze—to create contemporary works of art. These decorative plates may have unique forms as well as rough and wavy edges. They're ideal for more abstract designs and nature-inspired spaces.
Collections of Plates
More commonly, you'll see artistic compositions or installations created with plates. The plates can be decorated, solid colors, or even plain white. What's important is how and where they're placed. The designer must craft a careful balance for the collection to be pleasing to the eye.
How to use decorative plates in your design concept
Plates can hang by themselves, in collections or mixed-matched groups. Plates allow for great design versatility, with the added advantage that the unique style of the designer shines through in their placement.
Let's look at some ways to use ceramic wall plates in your interior design.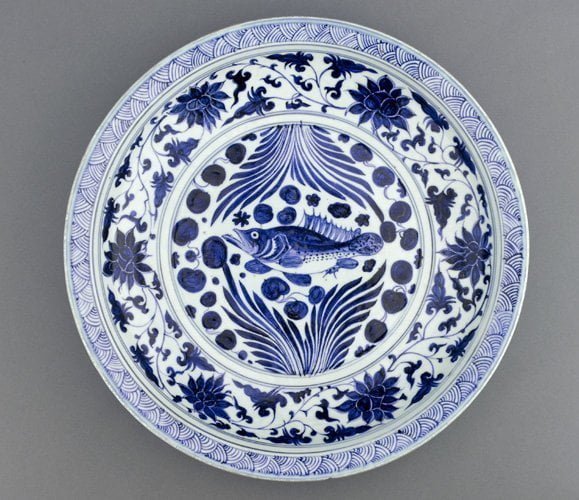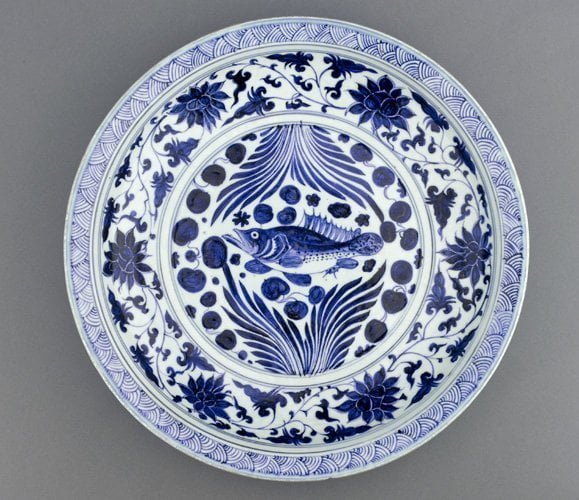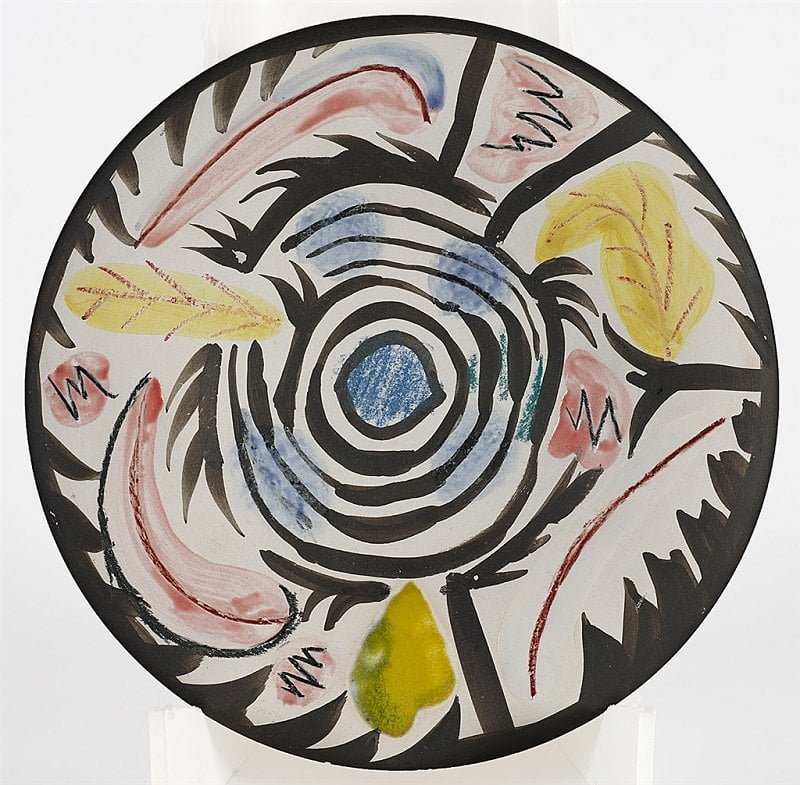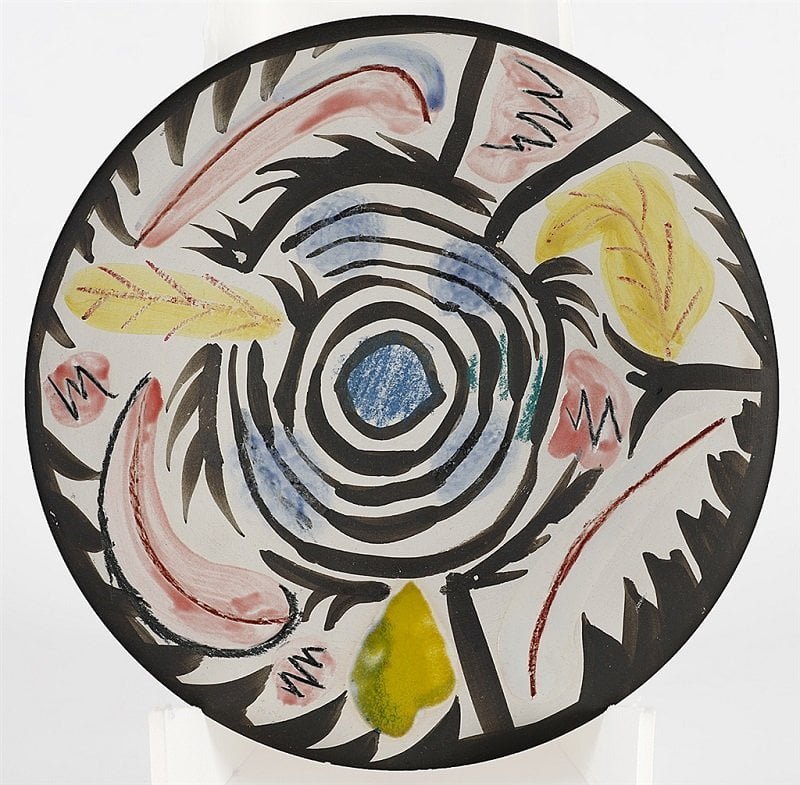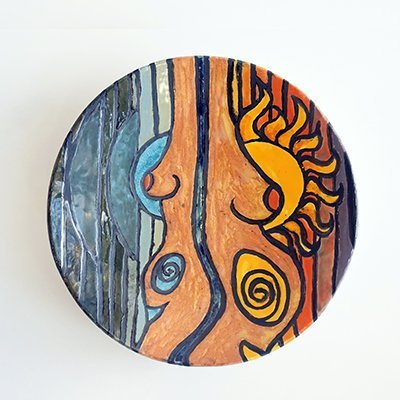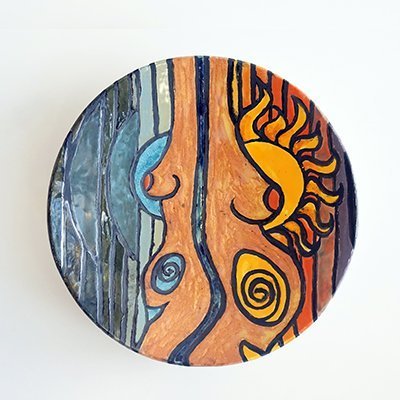 Filling a large, open space
Do you have a large, blank wall that needs decoration, but you don't want to over-power the room with a huge painting? A collection of plates can help fill large spaces, without becoming a dominating force in the room's decor. Find your own, unique arrangement in the middle of the wall for an original art installation or focal point.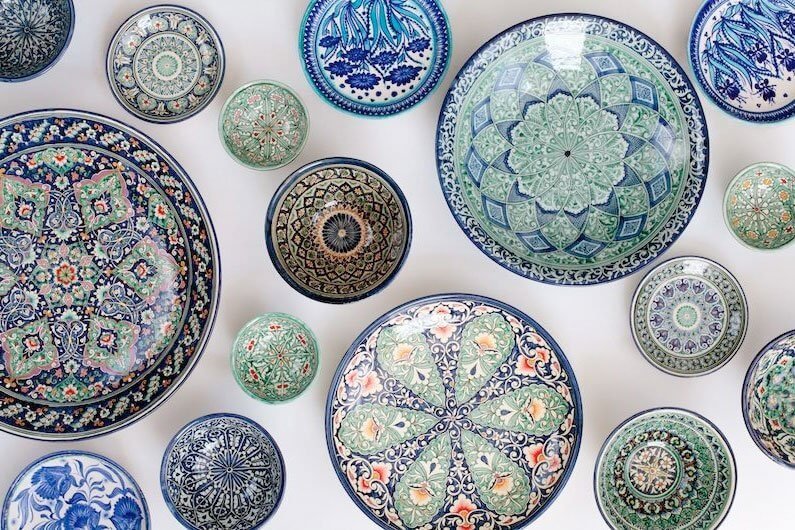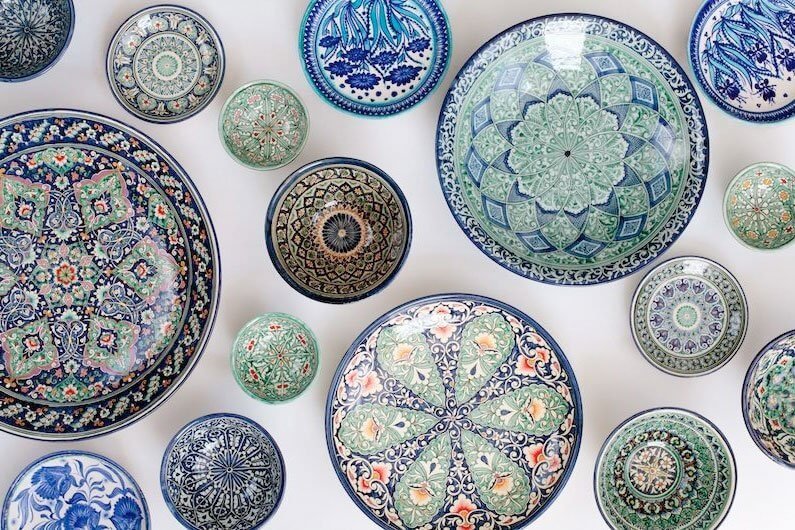 Bringing character to unexpected places
The dining or living room are common places to hang plates to add sophistication and interest to your walls, but how about in your bedroom or on your deck or patio? You can also start up a collection of decorative plates to give any corner of your home an eclectic feel.
In Andalusia—Southern Spain—as well as in Morocco, decorative ceramic plates are used alongside hanging plants to decorate beautiful large patios. They create spaces that make you want to pull up a chair and relax for hours.
Filling in and adding curves
Plates can be used on book shelves and above fireplaces to break up the collection of strict horizontal and vertical lines. They also work well in corners or thin strips of wall space that need some color and attention.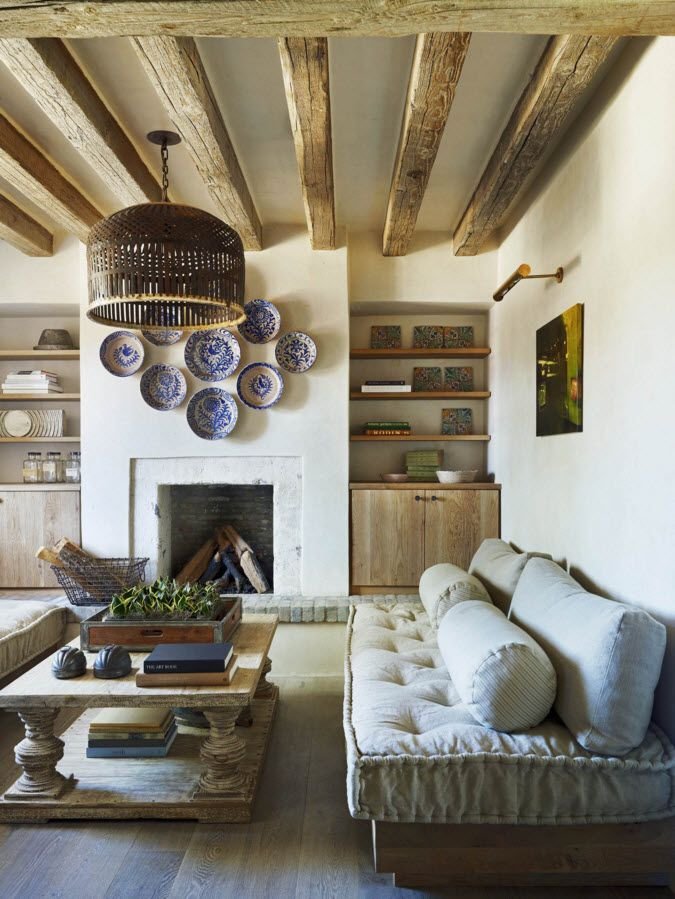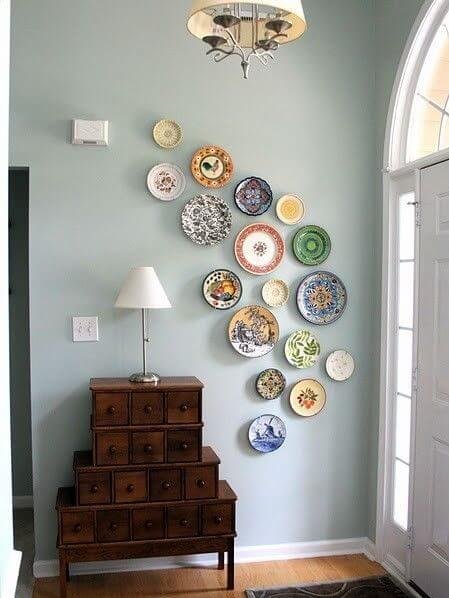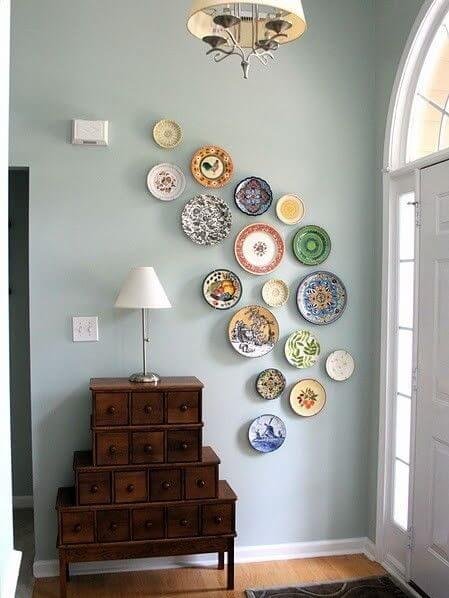 Step-by-step instructions for hanging plates like a pro
Check out this article by Fred Gonsowski on how to hang your plates like a pro! He covers: stacking plates up a wall and looking at visual weights, directed action of images on plates, looking at different groupings of plates that might inspire you, grouping plates around a center item "focal point", and composing an arrangement on the floor and getting it up onto the wall.
"Diversity of elements adds visual interest in interior decorating. When you hang a collection of plates up on a wall, you have something else to look at other than the often seen paintings, prints, photos and sometimes tapestries. Hanging a collection of plates is not just limited to dining rooms, breakfast rooms or kitchens, Plates can be hung in living rooms, bedrooms, libraries, bathrooms and halls as well." – Fred Gonsowski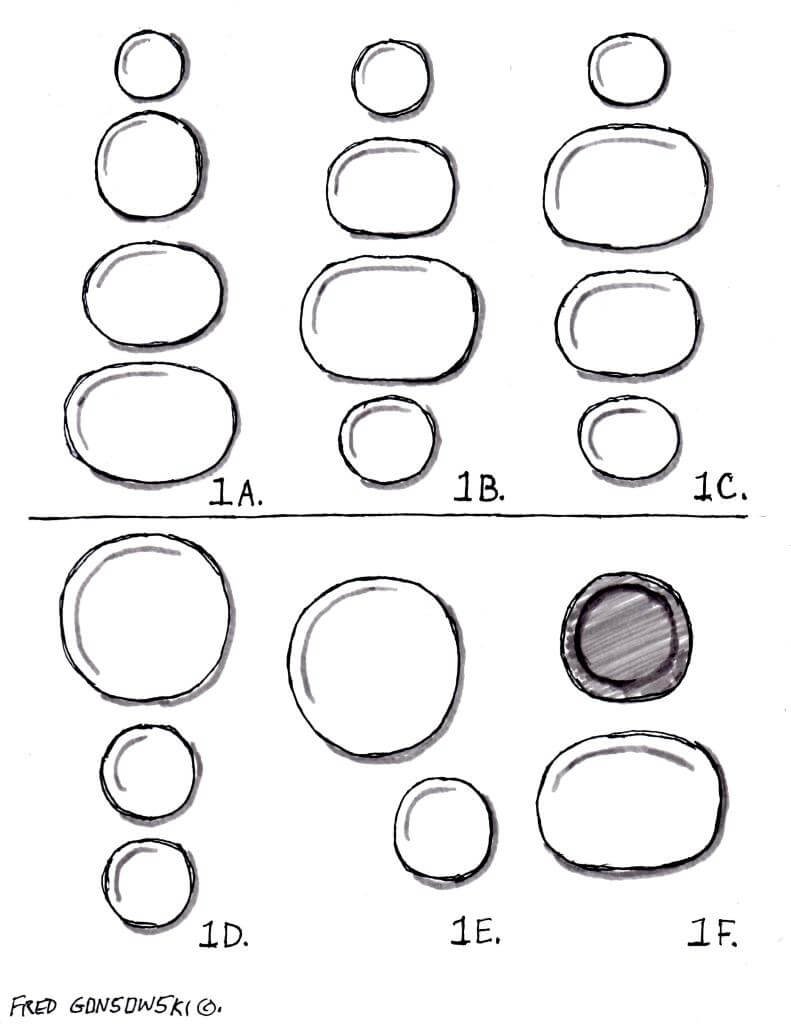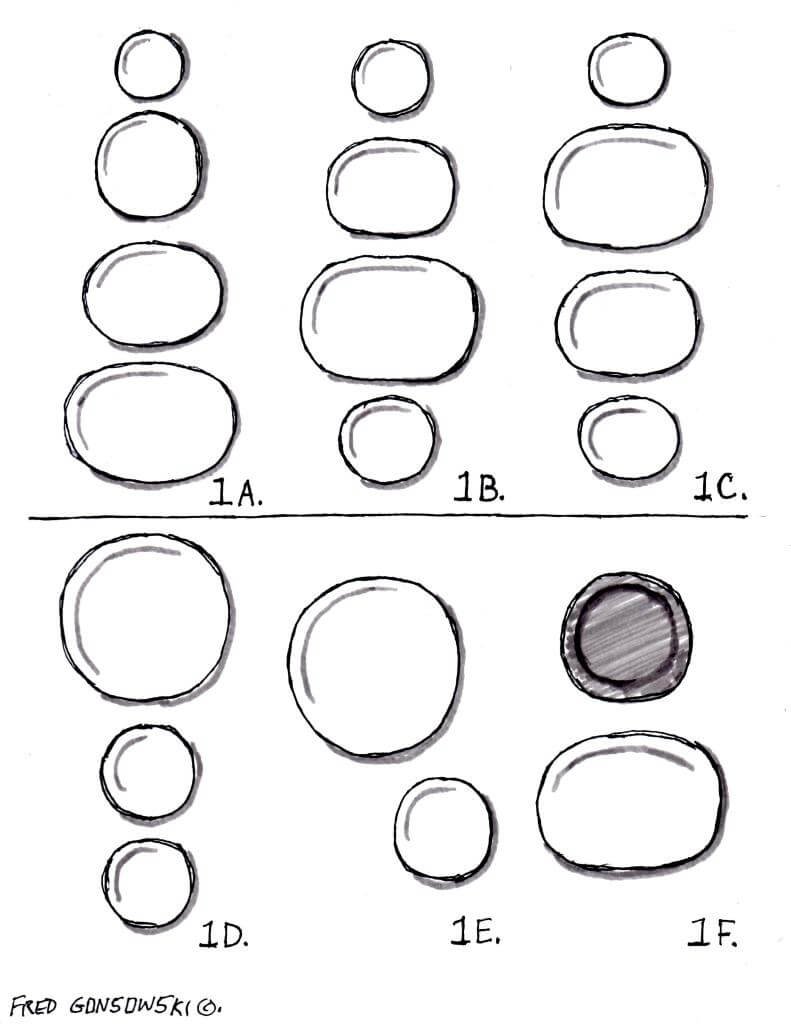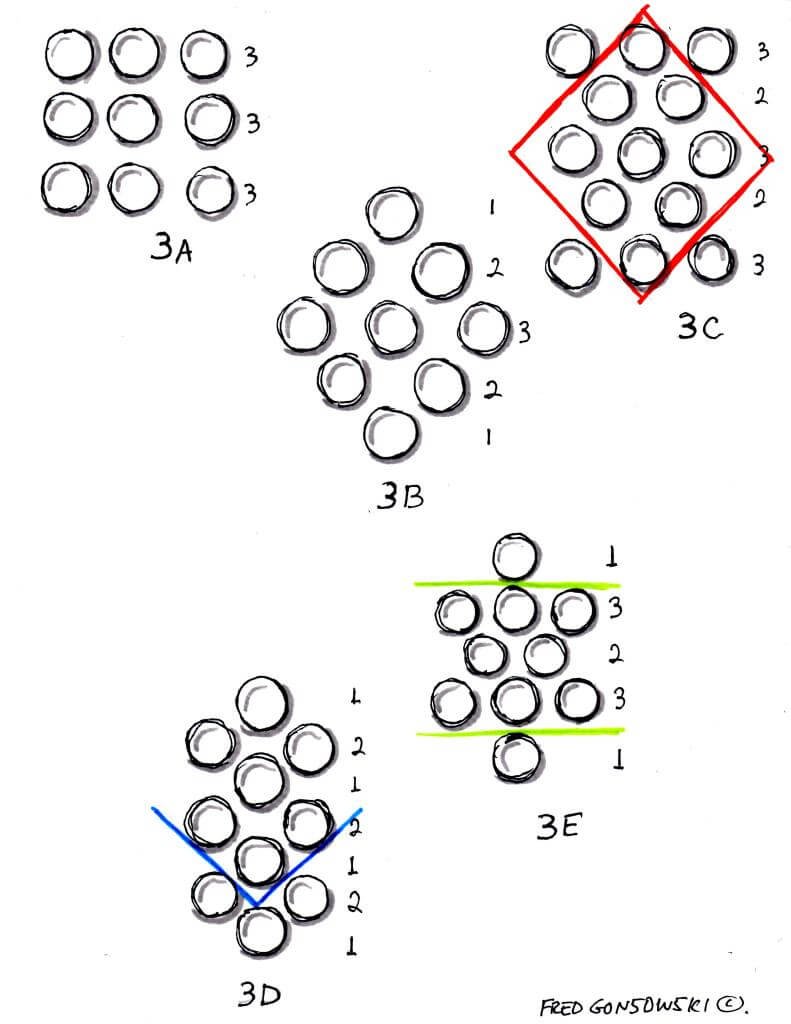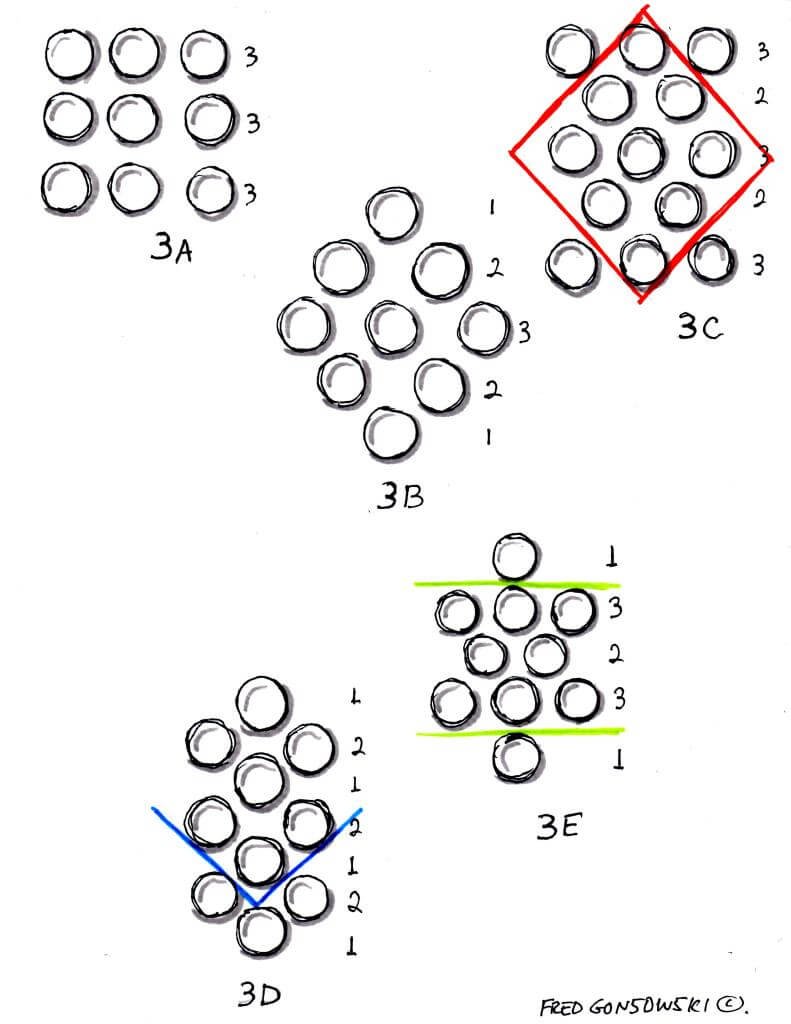 How to hang your plates and platters
There are a number of ways that you can hang your plates on the wall, some are more permanent than others. If the plate has a large enough foot, I will carve two holes so that wire or rope can be used to hang the plate on a hook.
In most cases, I want the designer to chose the direction the plate is hanging because the patterns and colors can be appreciated from different perspectives, depending on how the piece hangs. Thus I use the metal-spring plate hangers that can be purchased in hardware and home-supply shops or online. They're very easy to use and remove and I've never had a plate fall off of the wall. Just make sure you're using the right size, so that the plate fits snug into the holder.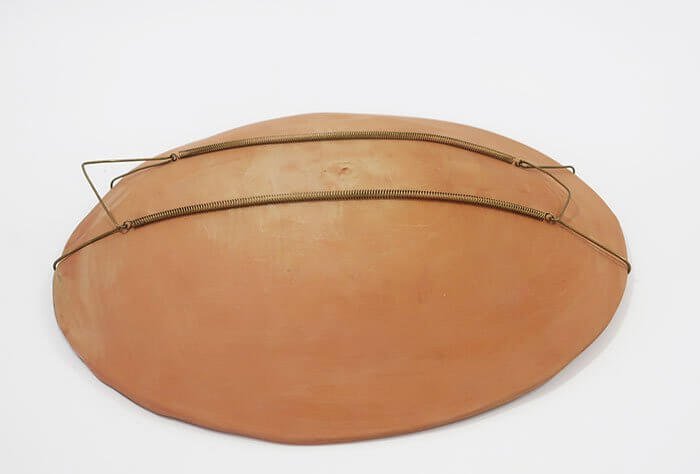 Create your own design
Whether you're decorating an old-world home or a modern loft, ceramic wall plates are an easy and enjoyable way to transform your space and create a unique atmosphere. Consider mixing various finishes, such as glossy, semi-gloss, or matte, for even more contrast. Ceramic wall plates also provide the perfect opportunity to incorporate your favorite colors into the room's design.
I hope you've found this post useful and inspiring. Decorating with plates is a great way to incorporate your own personal style and personality. I hope you have fun with it and please share any additional tips and ideas in the comments section below!